Events at Manhattan Motorcars – Book Yours Today!
INTRODUCTION
Clutchhouse Events offers an exhilarating collection of event spaces that were designed to fuel our guests' passion. From our expansive outdoor rooftop to our 5 floors of interior spaces, we'll help you create events of all types, for all seasons. With versatility at the forefront in the design of our venues, our fast-paced team can deliver anything from immersive brand experiences to celebratory milestone events.
Choose your next event with Clutchhouse and have access to ten premiere venue locations, including our two flagship Manhattan locations along Eleventh Avenue on The West Side.
For more information
646.535.7346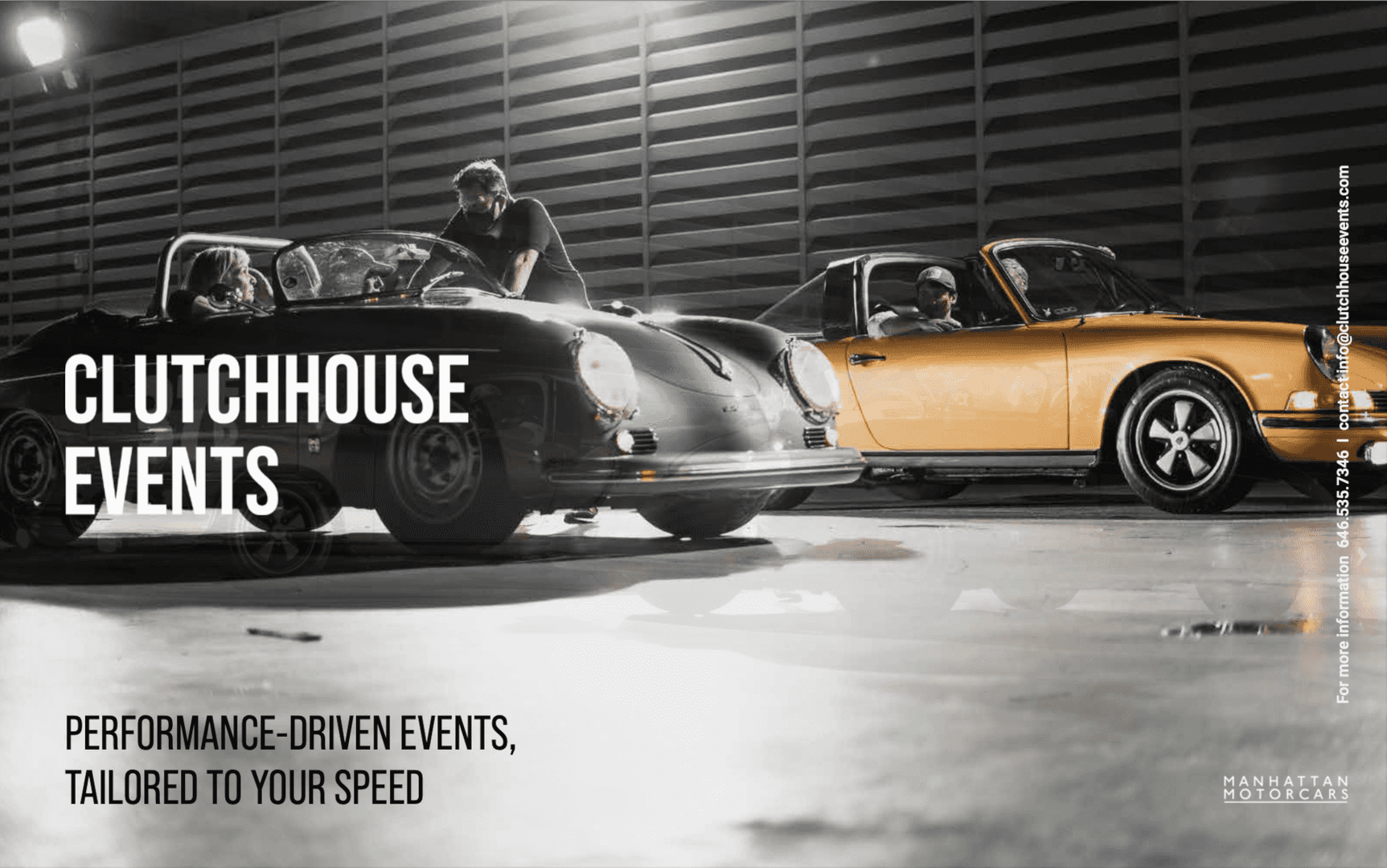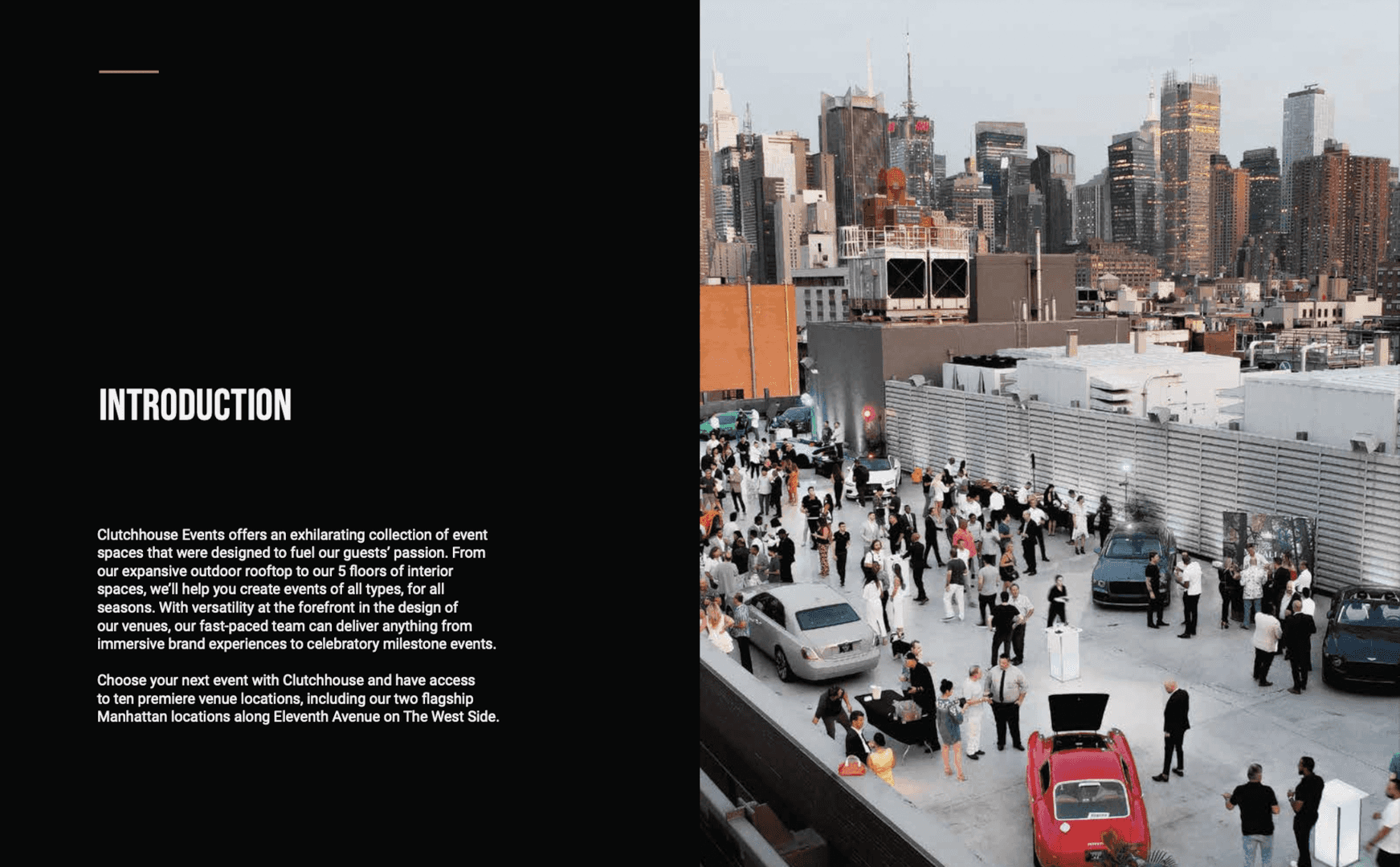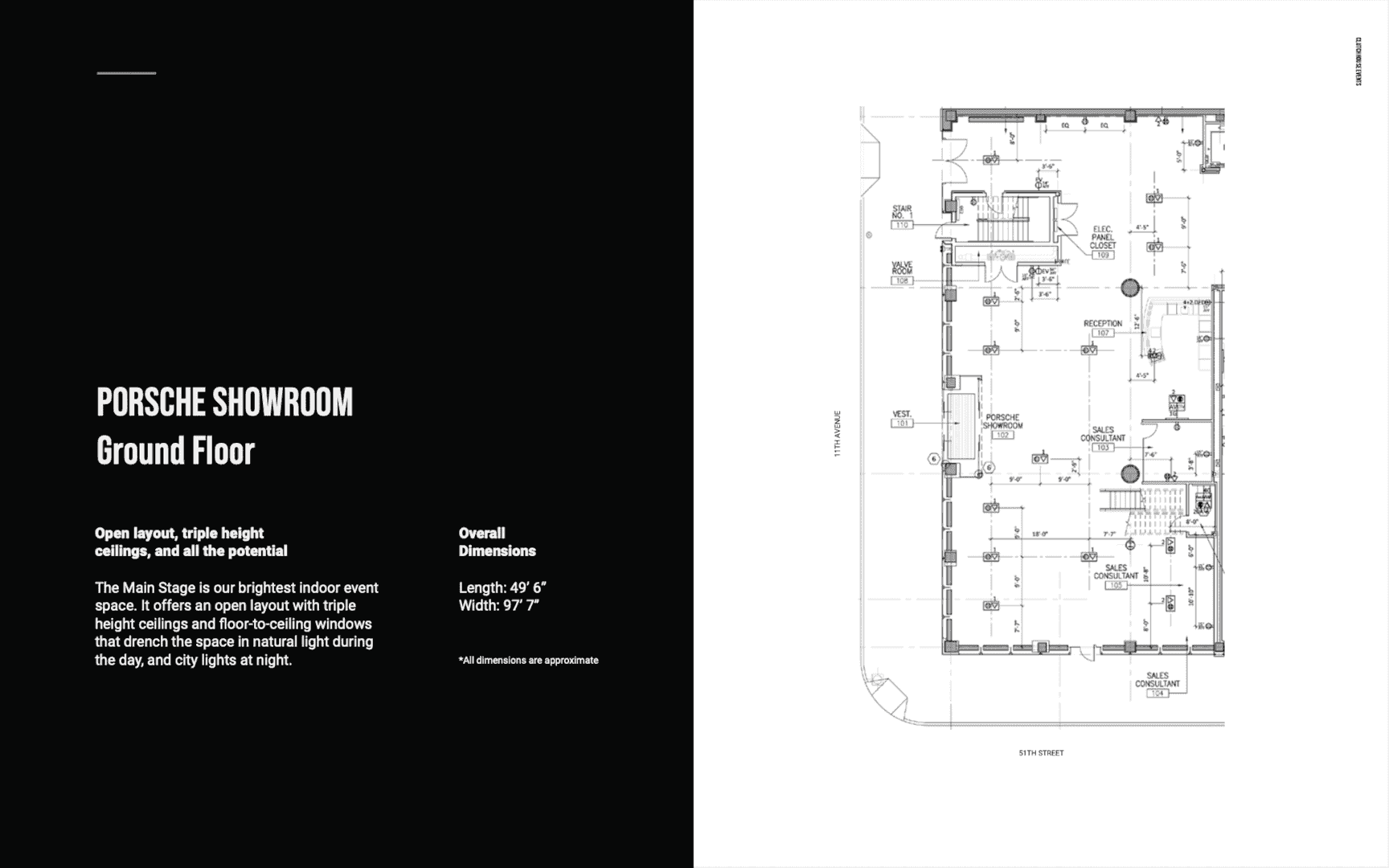 PORSCHE SHOWROOM – Ground Floor
Open layout, triple height ceilings, and all the potential
The Main Stage is our brightest indoor event space. It offers an open layout with triple height ceilings and floor-to-ceiling windows that drench the space in natural light during the day, and city lights at night.
Overall Dimensions 
Length: 49' 6"
Width: 97' 7
" *All dimensions are approximate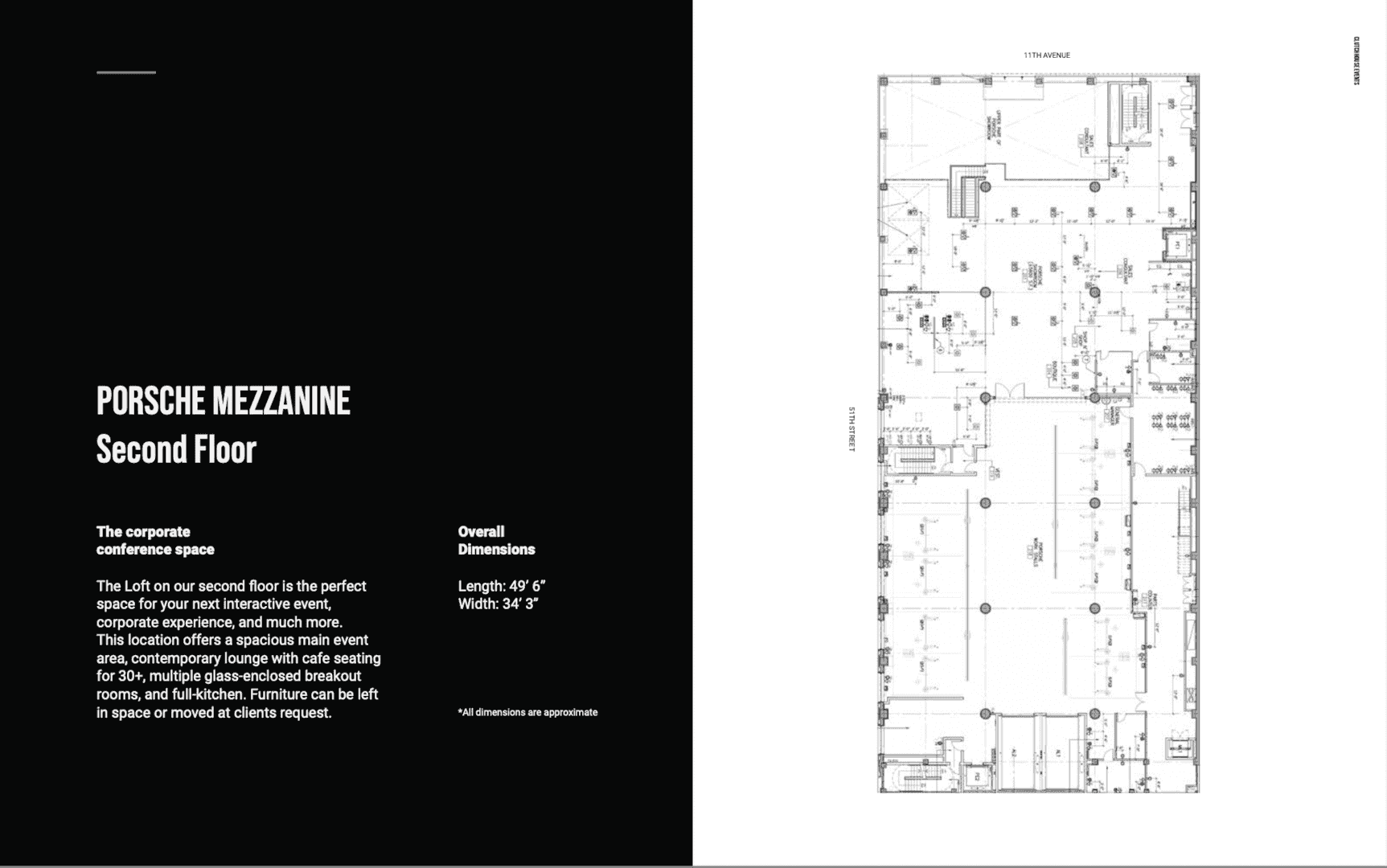 PORSCHE MEZZANINE – Second Floor
The corporate conference space
The Loft on our second floor is the perfect space for your next interactive event, corporate experience, and much more. This location offers a spacious main event area, contemporary lounge with cafe seating for 30+, multiple glass-enclosed breakout rooms, and full-kitchen. Furniture can be left in space or moved at clients request.
Overall Dimensions 
Length: 49' 6"
Width: 34' 3"
" *All dimensions are approximate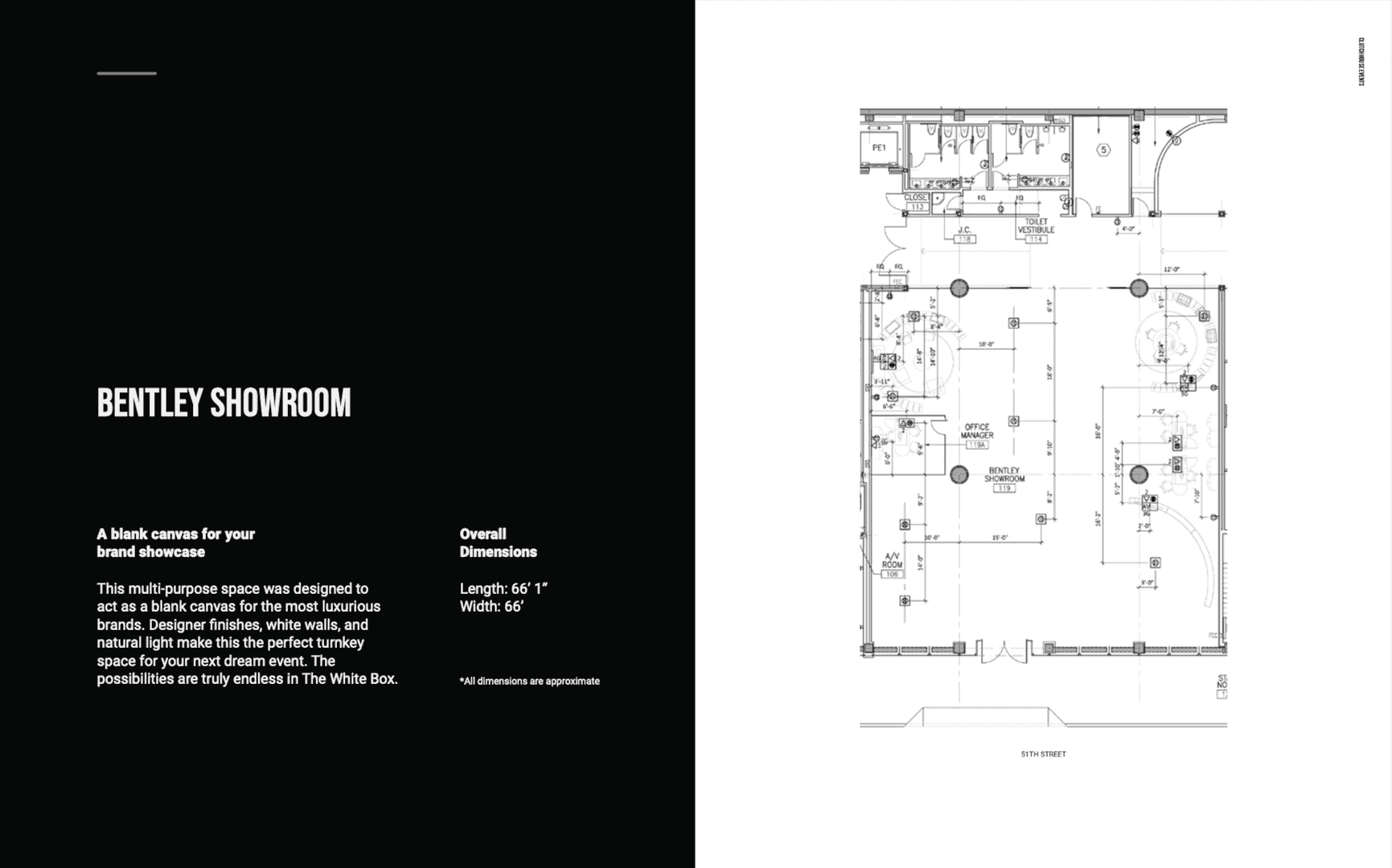 BENTLEY SHOWROOM
A blank canvas for your brand showcase
This multi-purpose space was designed to act as a blank canvas for the most luxurious brands. Designer finishes, white walls, and natural light make this the perfect turnkey space for your next dream event. The possibilities are truly endless in The White Box.
Overall Dimensions 
Length: 66' 1"
Width: 66'" 
*All dimensions are approximate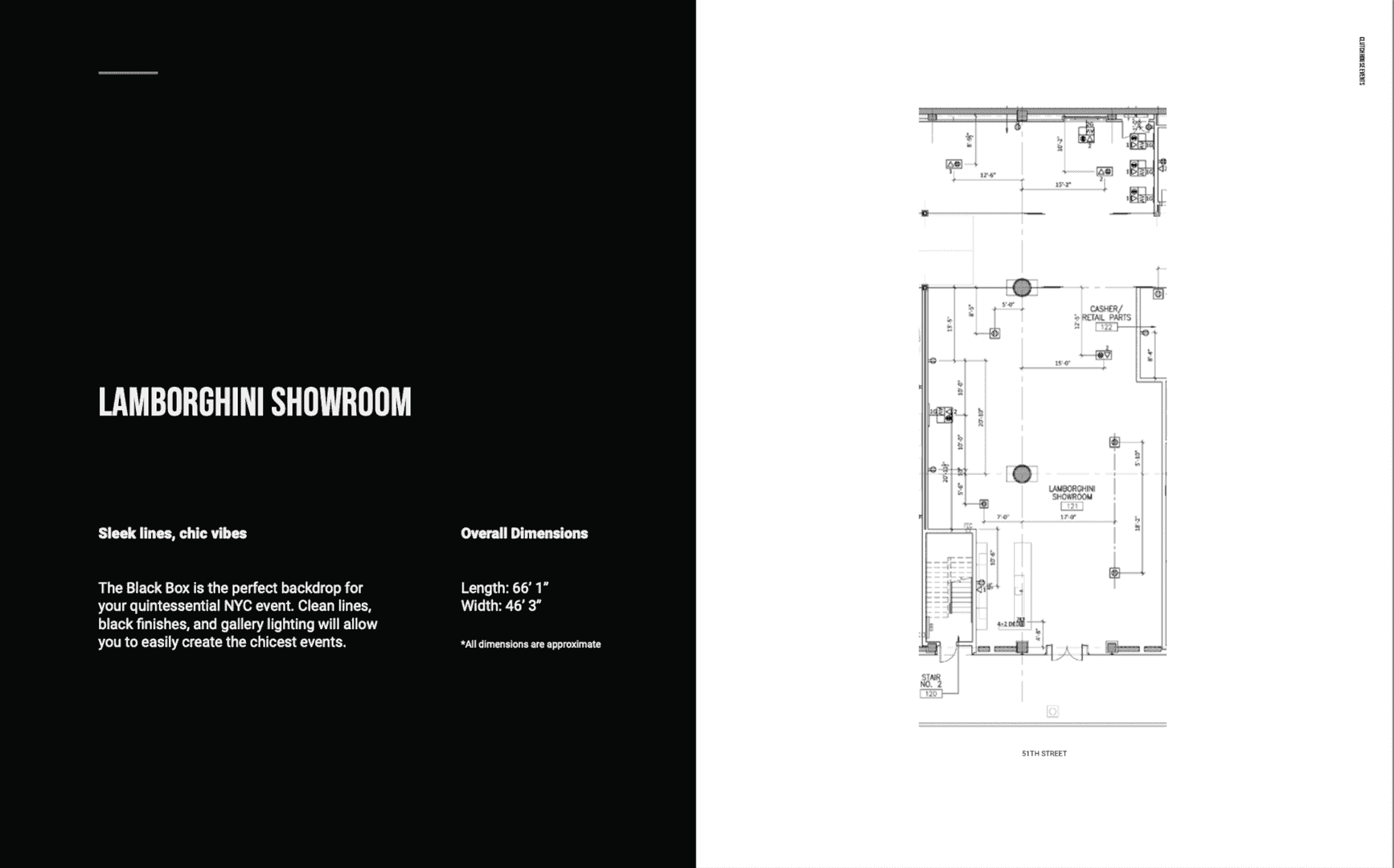 LAMBORGHINI SHOWROOM
Sleek lines, chic vibes
The Black Box is the perfect backdrop for your quintessential NYC event. Clean lines, black finishes, and gallery lighting will allow you to easily create the chicest events.
Overall Dimensions 
Length: 66' 1"
Width: 46' 3"
*All dimensions are approximate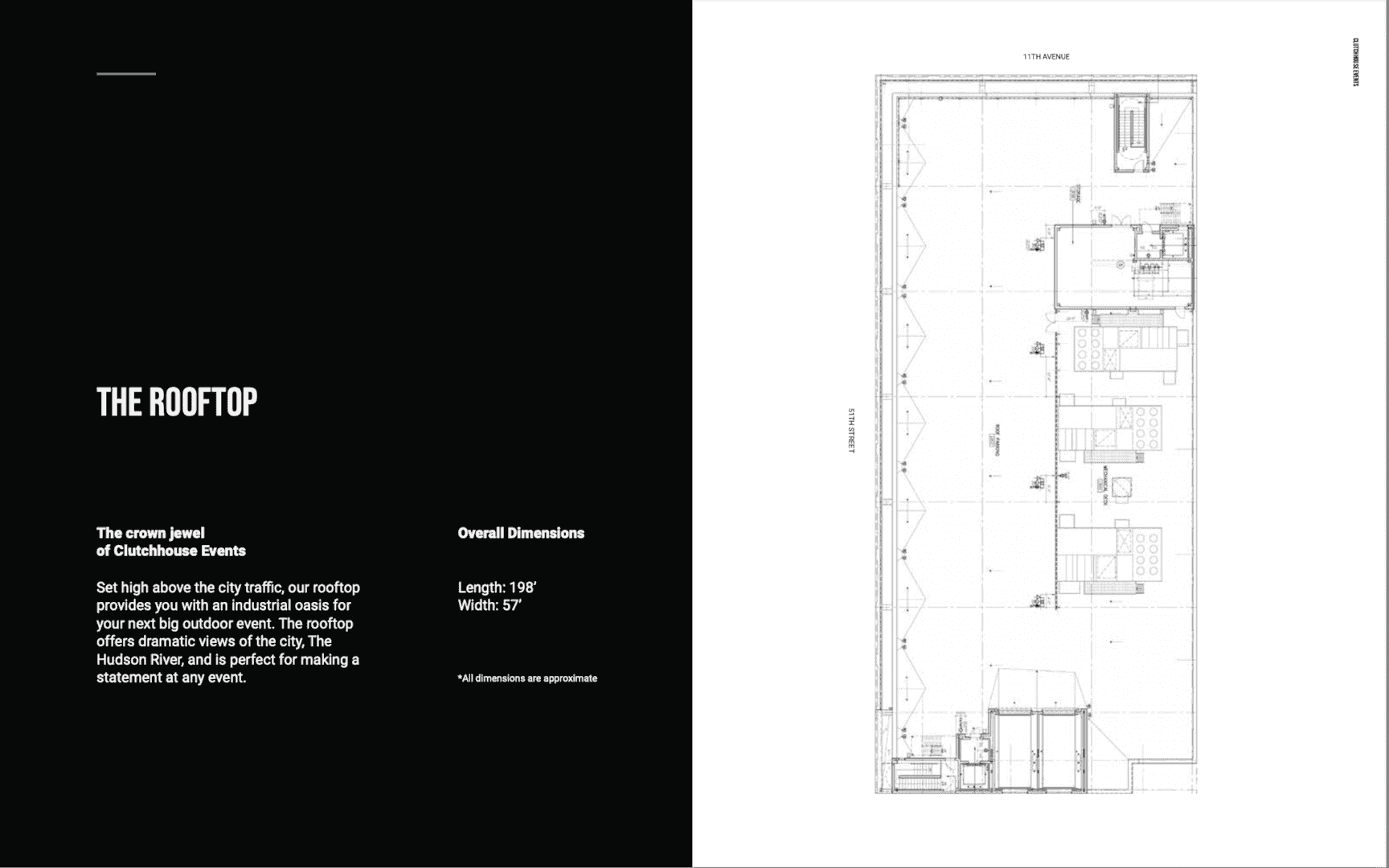 THE ROOFTOP
The crown jewel of Clutchhouse Events
Set high above the city traffic, our rooftop provides you with an industrial oasis for your next big outdoor event. The rooftop offers dramatic views of the city, The Hudson River, and is perfect for making a statement at any event.
Overall Dimensions 
Length: 198'
Width: 57'
*All dimensions are approximate